Ice Spears

Native American Sturgeon fishing spear, breakaway type.
Wood, iron and hemp twine. Width of head, 4.2 inches.
Made by an unknown Native American blacksmith
(possibly Ben Ettawageshik) at Cross Village, Michigan, circa 1900.
Ice Spears are considered the essential tool of ice fishing
and many experts consider them to be one of the
most dynamic forms of American metalworking.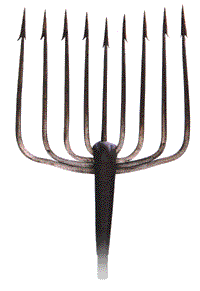 Hans Janner, Sr's Personal Muskelunge Spear
12" Wide, Stainless Steel, Steel and Lead
circa 1930,
Mt. Clemens, Michigan
Most collectors of fish decoys believe Hans Janner's' Mt. Clemens fish decoys to be the best. So too his spears. As shown above, Janner's spears possess an extremely powerful, almost fluid design which marks him as a major metal worker

A "great" spear possesses many attributes, including high grade metal, fine structural tines, imaginative barb work, sharp points, a good shaft and a socket that can hold it firmly in place. If all of these attributes are present, the resulting spear will likely be well-balanced and have taken dozens of hours to build.
Spear Box, Central Michigan Penisula, circa 1940
The fish decoy and the spear each play an important role in spearing prey. A decoy must deceive the predator into the shanty hole and the spear must slice through the water quickly, make the kill and then be strong enough to allow the catch to be retrieved.
Spears are of many dfferent designs, but three basic sizes (width of head) represent the fish they are best suited for.
| | | |
| --- | --- | --- |
| Small 3" to 5" | Medium 6" to 8 " | Large 9" to 12" |
| Perch | Walleye | Pike |
| Herring | Eel | Muskelunge |
| Whitefish | Salmon | Sturgeon |
| Frogs | Suckers | Carp |
Steel spearhead forged from wrought iron barstool,
7" wide
Marked "W.F. Hoppe"
Circa, 1930
Saginaw Bay, Michigan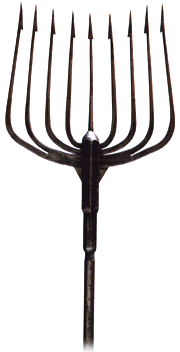 Rare Perch Spear 5" wide (Augie Janner's personal spear)
Hans Janner, Sr.
Circa 1940
Mt. Clemens, Michigan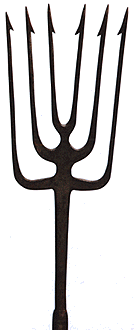 Cast Iron Spearhead 4.5" wide
Maker Unknown, possibly J. Dever
Circa 1930,
Cadillac, Michigan
Cast-iron spearhead, 7.75" wide
Abraham de Hate
Circa 1930
Mt. Clemens , Michigan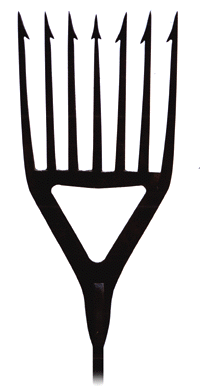 Pierced cast iron Spear, 5.5" wide
Maker unknown
Circa 1920
Cadillac, Michigan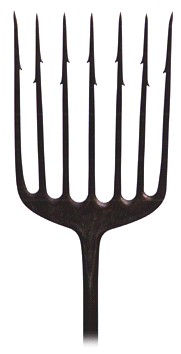 Seven-tined Spearhead, 7" wide
Imprinted "W.H. Kellogg" on both sides
circa 1920-25
Saginaw Bay, Michigan
Kellogg was the indisputed king of the Saginaw Bay spearmakers.
All of his spears were seven-tined and bore the name "W.H.Kellogg"
carefully stamped on both sides of the head.



| | |
| --- | --- |
| | |

Copyright 2012 & 2013, FishDecoy.com.
All Rights Reserved